HOMEPAGE

William Gregory Dobson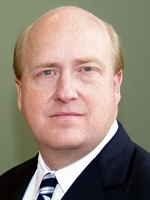 William Gregory Dobson Ť nato a La Fayette, Georgia nel 1963, ha frequentato la Mercer University di Macon, in Georgia, dove nel 1985 ha conseguito un Bachelor of Arts in Storia.
Dopo aver frequentato la Walter F. George School of Law presso Mercer University di Macon, in Georgia, ha ricevuto il suo dottorato in giurisprudenza nel 1990. » iscritto allíordine degli avvocati in Georgia dal giugno del 1990 e ha iniziato a praticare nel campo degli infortuni sul lavoro, previdenza sociale e lesioni personali.
W.G. Dobson ha ulteriormente ampliato la sua pratica nel campo emergente della frode commerciale mediante Class Action e Mass Tort Claims.
W.G. Dobson Ť membro ed ex presidente della Middle Georgia Trial Lawyers, membro ed ex vice presidente della Georgia Trial Lawyers Association, ed Ť membro dell'American Association for Justice.
W.G. Dobson rappresenta il nostro partner negli Stati Uniti (con uffici in Georgia e Florida) per la clientela internazionale di GIUS.